So, this week on stream, I was creating a building! I am not the best builder if we're going to be honest. I shine in CAS not Build Mode, but thats something I'm trying to get better at. I recently created sims of Khal Drogo and Daenerys, and so I wanted to create a home for them to be in. I had originally downloaded another castle-esque building, but I wanted to create my own as I have been on a stone kick for a while when it comes to decor – exposed brick etc.
With the help of some AMAZING CC from  >> here << I quickly set to work!
I also downloaded some CC from TheSimsResource – of course – and used that as well.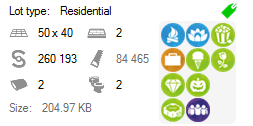 As you can see it is a two story building, complete with four balconies, a pool and hot tub and a very expansive yard. I picked out the lot it went into here, in the Windenburg world! It's one on the island, I'll just include an image later or something. I don't know.
Anyways, here's some floor plan images!
So. This house as I have it decorated is a two bedroom,  two bathroom house. I'm sure eventually i might change it around, but it has the potential to be a four bedroom and bathroom house if wanted. I love it. I really do. So, it's all up to you how you wanna fill it up!
I take a lot of pride in the Kitchen itself, I downloaded a LOT of CC for decorating so I could take each room as itself and make it into something beautiful, so please enjoy the following images of the house! We'll start with the first floor. It features a small bar, play room, library, open floor plan for dining, living and kitchen space and a bathroom.
The second floor features a nursery (which will be a second bedroom), a large playroom, an office, workout area, and spa. It also is home to all four of the balconies.  (The playroom, is one already created by Maxis.)
And here's a view of the backyard/pool area
You can download this house from me, but please PLEASE go to Magnolian's Tumblr and download from them too. They created those Targaryen banners, and deserve to see the numbers!
Thanks guys!!
EDIT: I have taken out the banners for Targaryen by Magnolian, so you can go to her site and download them from here!  <<< DOWNLOAAAD